About Bob: Robert Davey MBE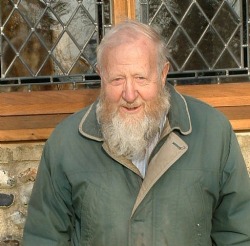 Bob Davey
Born in the 1930's in west Sussex. An apprentice engineer to the English branch of a failed American agricultural engineering company, Walter A. Wood & Co Ltd, called up for National Service in the Army, serving with the Corps of Signals and then the Royal Electrical & Mechanical Engineers. Soon after being demobed, he was injured in an industrial accident which left him with a permanently disabled right arm and hand.
Before he retired he worked for the Southern Water Authority in charge of maintenance.
Bob and his wife Gloria retired to North Pickenham in Norfolk in 1987, where he dealt in antiques for a while. It was in 1992 that Gloria found St.Mary's Church whilst on a WI ramble. Bob was brought up in the Anglican Faith - a Churchwarden and bell ringer for some years. Bob "was delighted to have the opportunity to restore a Church".
We owe most of what we can now see of St Marys' to Bob Davey. He has been the driving force and inspiration behind the restoration of the beautiful church ever since, and indeed it was only made a grade 1 listed building 1993, after his timely intervention. There is no doubt that Bob's drive, dedication and determination has insured its place in the national archives, and because of its importance, its safety is assured.
It was Bob who single handedly saved this amazing piece of our heritage from being razed to the ground, this was the intention of the Parochial Church Council back in the early 1990's. A number of 18th century cottages had already been bulldozed down. This now beautiful ancient Anglo-Saxon church would surely have met the same fate, but for the intervention of Bob Davey, his knowledge and determination.
The tower was amass of ivy there was no roof and the grave yard was overgrown with blackthorn. Satanists were using the church for their black magic rituals. This group opposed Bob's intervention and interest in the church vigorously. (The church having never been deconsecrated). On many occasion this man stood alone and resolutely blocked their entry. Always out numbered, having abuse and threats hurled at him. (A truly courageous and brave man indeed, for this church is well off the beaten track). He regularly sat watch over the church, alone, to stop more of these atrocities.
Things eventually came to a head when Bob received death threats and curses. A local Territorial Army sergeant (who shall remain anonymous) and 4 or 5 of this men offered help and so the plan was hatched. On the night of all hallows eve in 1996. The sergeant and his men lay in wait. The satanic group approached yet again, concentrating on the lone figure of Bob in the middle of the track. Suddenly, without warning, eerily silhouetted against the light of the full moon the strapping 6′2″ sergeant, his men alongside him rose up slowly out of the nearby bushes, (an ambush in the making). Taken by surprise the offending group took to their heels and "scattered in all directions like a flock of startled birds". For some time after that Bob still received threatening calls and on one occasion one of these bullies turned up on his doorstep to place a curse on him.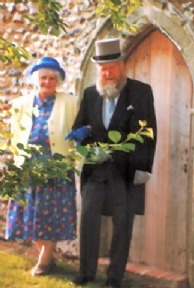 Gloria and Bob Davey
Since the early days and despite the curse placed upon him Bob continues to thrive and is, if anything even more determined to see the total restoration of this beautiful unique piece of our English Heritage.
You will find Bob up at the church most days, busy tending the beautiful gardens, or showing visitors round.