The Say Ring
In September 2006 a long lost piece of jewellery, the Say Memorial Ring was finally returned to the safe keeping of Bob and Saint Mary's thanks to Sergeant Debbie Serpell.
She had been watching a programme on the TV about the church, and by chance she saw the Say Ring on an Internet auction site, she then telephoned Bob to check that this was the ring, made a bid for it and won it. She then made arrangements to bring the ring down and view the church at the same time.
Bob of course was delighted, he had known of the existence of the ring for some time, as a metal detector enthusiast from the near by village of Necton had discovered it on the Campinglands in Swaffham.
The ring belonged to Catherine Say-Kneale the married daughter of the Reverend Say, Rector of Saint Mary's from 1725. It is engraved with both Catherine's father and mothers names. (Reverend Say's wife Elizabeth and Grandson aged eight are buried in the chancel at Saint Mary's).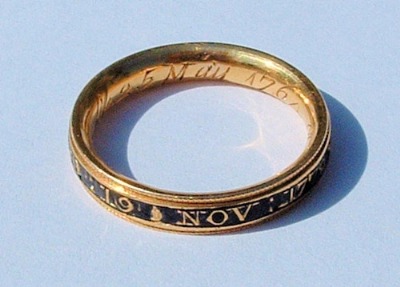 The Say Ring
The inscription on the outside of the ring in gold lettering on black enamel reads:
Ob 19 nov 1772 ae 63 eliz say
the inscription on the inside reads
R Say Ob 25 May 1764 at 53
Mourning or memorial jewellery has been worn since the middle ages and became very popular in the 15th and 16th century in England. Until the 18th century it generally consisted of gold and black enamel. In the early 18th century fine scrolled rings were made with white enamel for a single person and black for a married person.